STAGE ACTS, SHOWS, AND GROUPS
Bret Roberts - An entertaining soul with a heart made of coal.. or sole.. or something.
Brian Wendling - aka Bob the Juggler, who seems like such a nice guy until he stands on a tightrope juggling knives. That's gotta be evil.
Ded Bob - Classic example of how to haunt people from the grave.
The Dragon Attack Stunt Show - Getting medieval on ourselves. See the Bilge Pumps in high-flying stunt action!
The Duelists - True masters of the dueling art. Of course, real artists would cut their ears off like Van Gogh.
The Foxmoon Merfolk - These mermaids (and mermen) are our favorite flotilla of flippered fans.
The Pirate Hypnotist - He has the best show in the world! At least, that's what we remember from our conversation with him.
The Scallywags - The facebook page for our buccaneer buddies will show you why they're the scalliest scallywags what ever scalled a wag!
Silverwolf Productions - Home of the Sea Wolf, may her black planks be ever so tarred.
Smee and Blogg - These singing executioners'll have you laughing so hard, your head will fall off. That's good, right?
The Stilt Lady - Terrie Lutke's many characters are available for those lookin' for 8 foot pirate women to (ahem) flesh out their crew.
The Washing Well Wenches - These gal pals of ours have shared a stage and many dirty jokes with us.
MUSICAL GROUPS
Alexander James Adams - Legendary and very awesome Celtic singer-songwriter who wrote "March of Cambreadth".
Bedlam Bards - Hawk and Cedric will be sure to entertain, especially if you're drunk.
The Counterfeit Bards - A quartet of musicians that plays so sweet and nice, it makes ya just wanna take potshots at 'em.
Diane the Bard - (a.k.a. the Bard O'Neill) - A great singer who's just plain fun to spend time snark-drinking with.
Gypsy Soul - True, they're not a ren faire group, but they are one of Maroon's favorites, so here they are.
The Musical Blades - Hard hitting pirate music, meaning that they swordfight and sing... sometimes at the same time.
The Pride O' Bedlam - Our pirate buddies from TRF. Great crew to hide from the law with.
Schooner Fare - The brothers Romanoff are spreading the love of all things nautical to the world.
The Sea Dogs - A huge West coast pirate band... well, not huge individually... uh... I mean there's 15 of em, dammit!
Traveller Song - Former Bilge Pump Gil Burton Sullivan has up and got his own band rolling... even though we still make him sing with us.
Tullamore - Awesome 3 piece band. Fully stocked with 2 good lookin' women and a guy... who's pretty good lookin' too.
MUSIC SITES
Bilgemunky Radio - Every Monday night, this spankable pirate plays an evening of pirate music for all!
Mudcat Discussion Forum - Detailed listing of traditional folk songs. Lyric search included.
Pegasus News - Giving info and schedules on all the bands and venues in the Lone Star State.
Rambles - A musical review site that gives the skinny on us hard working bands.
RenaissanceFestivalMusic.com - Home of the Ren Festival Podcast, giving you music from the faire performers.
TheSeaShanty.net - A site dedicated to that loveliest of all work songs.
NAUTICAL AND SAILING SITES
Fyddeye - A pirate friendly guide to maritime history, lighthouses, music, and more!
Good Old Boat Magazine - You got a good old boat? Of course you do. Now go read about everyone elses.
Nautical Antiques and Decor - Anything you need that used to be in salt water is here!
San Diego Maritime Museum - Home of the tall ships Star of India, H.M.S. Surprise, Californian and more!
SpinSheet - Giving the news that is news to all of the Chesapeake Bay sailors.
Tall Ship "HMS" Bounty - Home of the most famous and well-used square rigger around
Tall Ship Rose - Now renamed to Surprise and featured in "Master and Commander". The largest wooden ship still sailing.
&nbsp &nbsp Check out Maroon the Shantyman's trip on the Rose here
Tall Ship U.S.S. Constitution - "Old Ironsides". The undefeated wooden ship of the US Navy.
Texas Seaport Museum - Home of the Tall Ship Elissa, an iron-sided barque based in Galveston, TX with the nicest crew around!
PIRATEY GOODS
Blackbead's Treasure Chest - Pirate jewelry and lover-ly nautical goods to stuff your bilges with.
Clip Clocks - Ever wonder why we stare at our nipples so much onstage? Now you know.
Goodies Unlimited - Soaps and lotions to make you not smell quite to pirate-like.
Pirate Mod - A quite swashbuckling stash of pirate shirt with traditional and original jolly rogers on 'em.
The Pirate's Cove - Our friends at the Pirate's Cove are gonna hook you up, pirate-style... with a real hook!
Renboots.com - Want new boots so ya can look piratical? Here's a good place to spend yer loot.
Renshirts.com - 'Cause, unless you wanna get arrested, there's no wearing renboots without a renshirt... and pants.
Sablewood Village - A community of old-world craftsmen making unique items for you.
SteelDrumMallets.com - Maroon the Shantyman's own store where he makes and sells steel pan mallets.
Stormwatch Jewelry - These guys have nice jewelry for sale. Since they're friends, though, we can't steal it, dammit!
Woody's Smokehouse - By far the best meat jerkey on the planet. The Bilge Pumps proudly consider themselves addicts.
LINK IMAGE
If you wish to link to The Bilge Pumps homepage, here is a graphic to use.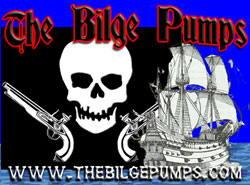 For booking information contact Craig Lutke at:
214-415-9563 or by e-mail at